Experience strengthening and bonding for conscious entrepreneurs.
PATAGONIA ARGENTINA - MODALIDAD SEMI-PRESENCIAL (PUERTO MADRYN)
Si emprendes consciente de la realidad insostenible a nivel planetario y humano que estamos viviendo a la hora de hacer negocios, entonces queremos acompañarte . Desde Mayma fortalecemos emprendedores de impacto socio-ambiental hace 16 años.
Varias son organizaciones sin fin de lucro, fundaciones. Otras son empresas B, empresas sociales . Todas son importantes, ya que empujan y promueven una economía más humana, equitativa y regenerativa.

Por esto lanzamos nuestro programa anual, que este 2022 intensificamos en 16 semanas para sumergirte en una experiencia de fortalecimiento y vinculación con emprendedores de Latinoamérica. El cupo es de 20 emprendimientos que accederán a una beca del 100% . La selección la realizaremos durante el mes de abril.

To live a deep experience, we aim to exceed expectations.
8 seminarios (webinarios)
- Apalancados con data teórica -
Con referentes en negocios de impacto especializados en Finanzas, Marketing, Comunicación, Canvas B, Métricas e Indicadores de Impacto, Movimiento y Evaluación B.
5 ENCUENTROS DE VINCULACIÓN & PRÁCTICA - presenciales
- De la teoría a la práctica -
Dentro de un proceso de acompañamiento grupal hacia un equipo de emprendedores, invitaremos a poner en práctica los conocimientos compartidos y apostar a la asesoría entre pares. El lugar de encuentro será en Puerto Madryn.

MENTORía en grupos de tres
- Orientación hacia objetivos -
Se asignará unx mentorx para guiar a emprendimientos con desafíos similares en encuentros virtuales de 3 emprendedores.
STRATEGY & PLANNING MATERIAL
- Herramientas para bajar a tierra -
Canvas B as a model matrix to visualize the business model with purpose, Financial Plan to calculate, estimate and project your costs and revenues. In addition to other guides and activities for your company.
LATIN AMERICAN MEETING OF IMPACT ENTREPRENEURS
- Celebración anual -
Evento virtual de cierre para conectar con emprendedores, a través del arte, la inspiración y las conversaciones poderosas :)
TU sociX bienvenidX
You participate with your co-equiper to be able to absorb all information and reflection together.
CONTENT RECORDINGS
If you could not attend any of the meetings, throughout the year you will be able to see them virtually.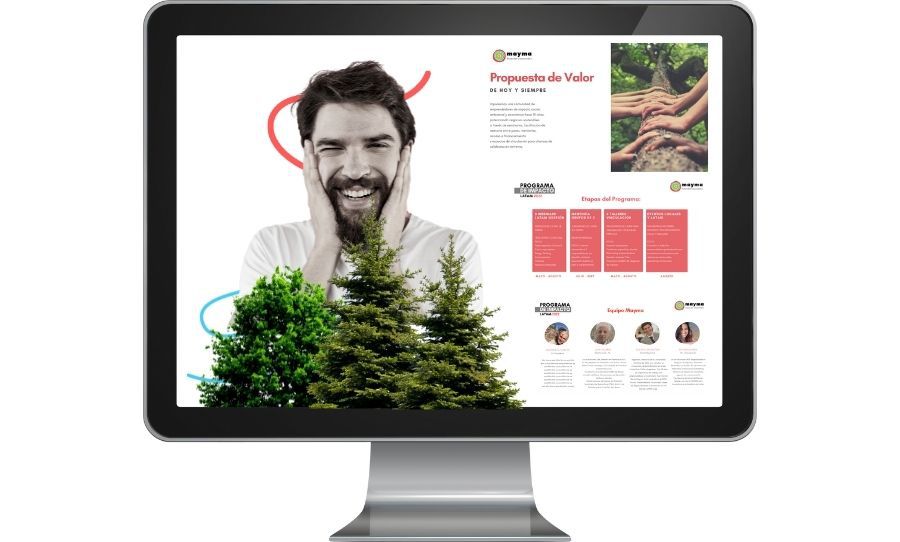 Presentación Programa de Impacto Latam
Si te interesa saber más sobre quiénes están detrás del Programa, conocer a lxs facilitadorxs, ver la agenda en detalle y conocer más sobre Mayma, te invitamos a descargar la presentación institucional.
Entrepreneur opinions,
From those who lived the experience
WHAT'S GOING TO HAPPEN?
You will find tools to (re)direct your business model with a focus on the socio-environmental purpose that moves you, strengthen your financial plan, talk about communication coherence and marketing techniques that promote a more sustainable world.
You´ll get excited about regenerative stregeties and practices and impact measurement techniques that could give your project more potential.
WITH WHOM AND WHEN DO I PARTICIPATE?
Te prometemos que conocerás diversos emprendedores con valores compartidos en grupos facilitados por coordinadores con años de experiencia en la temática.
Nos encontraremos todos los miércoles del 4 de mayo al 24 de agosto.
WHY MAYMA?
Ya capacitamos a +3.300 emprendedores de Argentina, Chile, Colombia, México y Uruguay , contamos con coordinadores grupales, mentorías de grupos reducidos, expertxs en negocios de impacto, pares que proponen compartir sus aprendizajes, seminarios de temáticas relevantes a todx emprendedor que busca un impacto positivo y finalizamos con una gran celebración anual.
Y somos una gran humanidad emprendedora .
Gracias a las alianzas locales: